Welcome
2nd Edition of Writing to Win Now Available on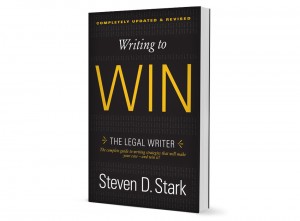 Steven D. Stark is a writer, lawyer, and consultant who teaches courses on writing and speaking to lawyers and other professionals. A former cultural commentator for CNN, National Public Radio, and the Voice of America, he is the author of four books and one e-book and has written frequently for the New York Times, the Los Angeles Times, the Atlantic Monthly, and the Boston Globe where he was an op-ed columnist.  A former Lecturer on Law at Harvard Law School, he is a graduate of Harvard College and Yale Law School. He is currently at work on a number of fiction and poetry projects.
Read a profile of Steven Stark in the Boston Globe Sunday Magazine.
Listen to Steven Stark on the Dennis Prager Show on December 26, 2007.
FOR STEVEN D STARK'S FICTION, POETRY, AND ART WEBSITE

GO HERE